EDUCATION
APICS Sales & Operations Planning (S&OP)
Online Course
Tuesdays, April 6, 13, 20 & 27, 2021
5:00pm – 7:00pm MDT
Colorado Chapter Course for S&OP:
– Instructor-led online course
– Class includes Online class instruction, student materials/books
– $350 for PLUS-Level Members, $450 for Non-Members
Register Online at:
https://apicscolorado.org/On-Line_Classes
If you have questions regarding this program please contact:
Honey Johnson, VP of Education at (303) 421-0797 or hjohnson@mss-technologies.com
Or Roger Harris, President and Coach at rharris@mss-technologies.com
APICS CERTIFICATIONS
APICS Live Webinar Training Courses
CPIM Live Webinar Training Courses.
CSCP Live Webinar Training Courses.
CLTD Webinar-Enabled Review Courses.
SCOR-P Webinar-Enabled Review Courses.
Principles Webinar-Enabled Review Courses.
Demand Driven Planner (DDP) Webinar-Enabled Review Courses.
Online Certification Review Courses – APICS
CPIM Certification
Certified in Logistics, Transportation and Distribution (CLTD)
Become a recognized expert in the logistics, transportation and distribution fields. Certification demonstrates in-depth knowledge of a broad range of topics to set you apart from your colleagues — proving your high level of knowledge and skills. You'll be a more valuable asset to your organization, keeping you and your organization more competitive in today's global economy.
Why you should earn the CLTD designation
Gain recognition in the field as a logistics expert
Build credibility and set yourself apart from peers
Learn latest trends in global supply chain logistics
Impact your organization's bottom line
Demonstrate logistics mastery of knowledge
                         
---
CPIM Transformation – The NEW CPIM Version 6.0
The new, streamlined CPIM program launches in September 2017. Features and benefits of the new CPIM Version 6.0 include:
Only 2 exams – CPIM Part 1 and CPIM Part 2 – required to earn the CPIM credential.
Already taken CPIM BSCM? – The current CPIM BSCM exam counts toward the new, streamlined CPIM Part 1.
Streamlined certification experience gets you certified faster.
Updated format delivers the same CPIM knowledge and skills in a focused program to meet the training needs of today's busy supply chain professionals.
New CPIM Learning System, a proven APICS certification preparation method that combines reading materials with online practice tests and tools.
Ability to purchase the entire CPIM bundle, including the complete CPIM Learning System, CPIM Part 1 exam and CPIM Part 2 exam.
How to earn the CPIM
Candidates must pass two exams within 3 years to earn the CPIM certification, and are required to maintain the CPIM designationevery five years.
 Allow a few minutes for the video to download.  Then open and play.
***************************************************************
APICS Certified Supply Chain Professional (CSCP) Certification Program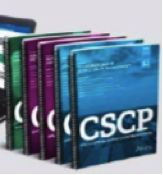 The APICS Certified Supply Chain Professional (CSCP) Certification Program helps you demonstrate your knowledge and organizational skills for developing more streamlined operations.
Since its launch in 2006, more than 16,000 professionals in 79 countries have earned the APICS CSCP designation.
 Is the most widely recognized educational program for operations and supply chain management professionals around the globe
 Is a designation that is sought by thousands of employers and recruiters
Provides you with a mastery of supply chain management best practices and distinguishes you as an industry expert with specialized, high-level knowledge and skills
For details and information please email contact@abqapics.org or call 505-331-8205.